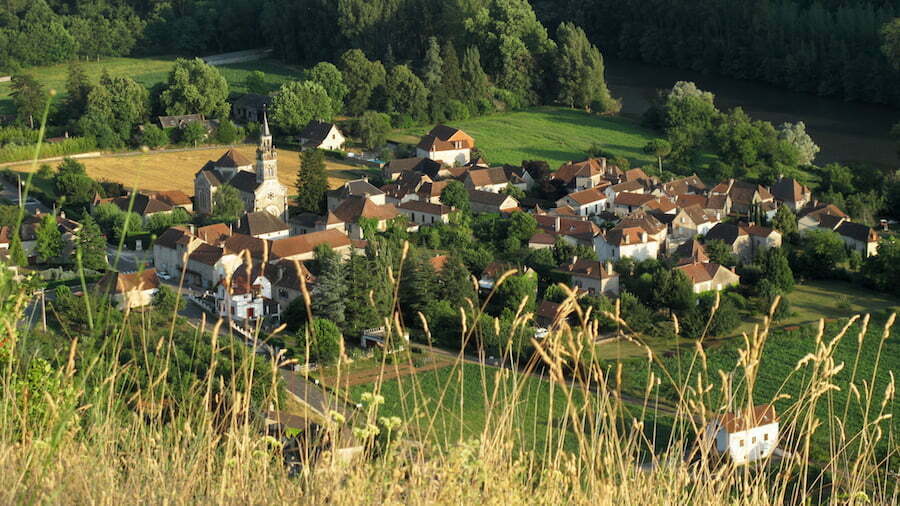 Info
Waking up neither of us could quite believe we had made it to Larnagol last night. It was luxurious to be able to get up slowly without the need to pack up and get moving and we enjoyed it thoroughly. Kettles, toasters and washing machines were all used, all the more appreciated after 10 days in the tent.
Amongst the reception committee last night was Phil, a friend of Janie's who lives in the next village. We had jumped at the idea of kayaking down the Célé (the river gorge just north of the Lot) but in the warm light of day we were not so sure, it sounded like an 'activity'. Having taken a long time to get ourselves moving it was later than intended when we arrived at Phil's, but we were soon motoring (how odd to be in a car) up and over to a stunning cliff lined gorge which is perhaps even more beautiful than the Lot.
We parked by a bend in the river where it was easy to get the boats in, spread out some blankets and while Phil took a bike further down the river we snoozed while Janie swam. On Phil's return we ate a late lunch and the set off, Helen and Phil on single kayaks, myself and Janie on the double (I say 'on' as these were sit on kayaks rather than sit 'in').
The cliffs of the Célé are over 100 meters in places, rising sheer out of the water where the river bends, at other times some distance away, evidence of a different course in a different era. What 'rapids' there were tended to be very shallow and we were often out of the boats to drag them through to the deeper flows.
We paddled for about 2 hours, through dense forest which at times felt ancient and primordial, only occasionally glimpsing houses built in to the cliffs. We saw clouds of dragon flies, a falcon chasing birds and Phil even saw a snake in the water, all added up to an experience which was as unexpected as it was enjoyable.
Phil got out to bike back to the car and trailer while we paddled on for a short distance, getting out at the water mill at Cabrerets, just before the Célée joins the Lot. Janie had been singing about chocolate cake for the last couple of miles, as luck would have it we had landed next to a cake shop! No chocolate sadly, but a very fine pear tart hit the spot.
The journey back over to the Lot was again stunning, the way the villages use local materials and colours combined with the lack of regularity means they seem a part of the landscape, rather than something added by human hand. This gives the region a very harmonious feeling, integrated rather than imposed and an ideal spot to rest up for a couple of days.
The trouble is we are not vert good at taking it easy. There was a village fete nearby which Janie was keen to go to, so we dashed back to the house for a quick change before heading on to Saujac.
When we arrived there were already about 150 villagers assembled, most of them well into their third apperitif. We were the only outside guests which made it all the more special. After days of passing through the French countryside it felt like we were at last seeing French life.
Five long tressel tables were all set for the meal which started with bread and bean soup. This turned out to be excellent and I had to resist going back for a third bowl, as this was followed by melon and port. During these first couple of courses we were treated to the 'birthday song', which involved the a singer leading us through a drinking song for every star sign. When your birth month came up you had to stand on your bench and drink your drink down with the chorus. Being shy visitors we sat politely out while some of the more exuberant villagers seemed to join in every time. By the bbq chicken arrived there was a party atmosphere and when Janie got the microphone to sing 3 songs it was an appreciative audience. She sang 2 traditional French songs and her favourite, Summertime. Her contribution ensured 'les Anglais' had sung for her supper and we felt welcomed in.
Salad, cheese, tart, coffee and of course plenty of wine was just what hungry cyclists needed and we both ate our fill. We didn't have the energy for dancing but Janie got stuck in. We got back late, thanks to Phil for getting us home. A real treat of a feast and a superb 'rest' day. Perhaps a proper rest tomorrow.