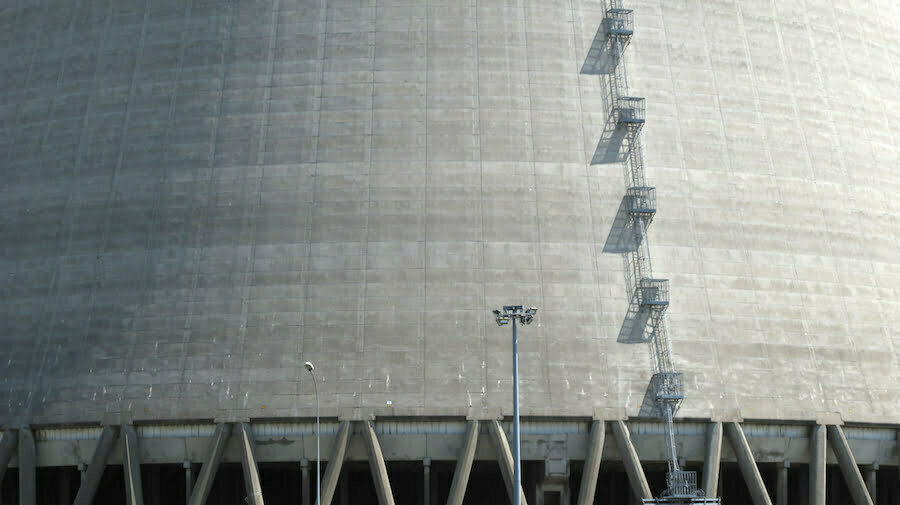 Info
I was insistent today would start with 'cafe express' in the town square, and so it did. The 'centre ville' of Briare providing the backdrop. An efficient shop and visit to the 'office tourisme' saw us on our way, but not without stopping at the impressive Pond du Port (the aqueduct carrying the Canal de Briare over the Loire) to munch the pain au chocolats we had just bought. Food was becoming a major theme of this trip!
From there we had 20 delightful kilometers cycling along the banks of the canal, along tree lined boulevards listening to the rich bird song that seems to accompany us everywhere we have so far been.
The last few kms of the cycle route were quite sketchy, rough dusty tracks in the baking midday sun. We were glad when we reached metalled road again.
All this time we had the two towers of the nuclear power station of Neuvy sur Loire in our sights, but I was surprised when the cycle route took us right up to it. The scale was breath taking, like one of the great cathedrals of Europe, which I guess it is. We found some shade in a picnique area nearby and ate our lunch, but with an ear out for sirens or other worrying noises.
We pedalled on in increasing heat, Helen's thermometer read 38 deg on the road and we had to stop frequently to drink and gasp. Having decided earlier to call it a half day we rolled into Saint Satur at about 4pm, set up the tent, then rode up the hill to Sanscerre – hot work!
Sancerre is a beautiful medieval village perched on a hill surrounded by vinyards and full of great wine houses. We pedalled around and cooled off with a 'demi pression' in the square having learnt the lesson of Fontainebleau not to have pints. After fixing the worrying noise coming from Helen's back wheel (slightly mis-aligned top gear guard – phew!) we headed back down the hill to the 'supermarche' to stock up for sunday closing. We are probably being paranoid but would rather carry the extra weight than not be able to find anywhere open! Not quite decided the route for tomorrow, a job for the morning.