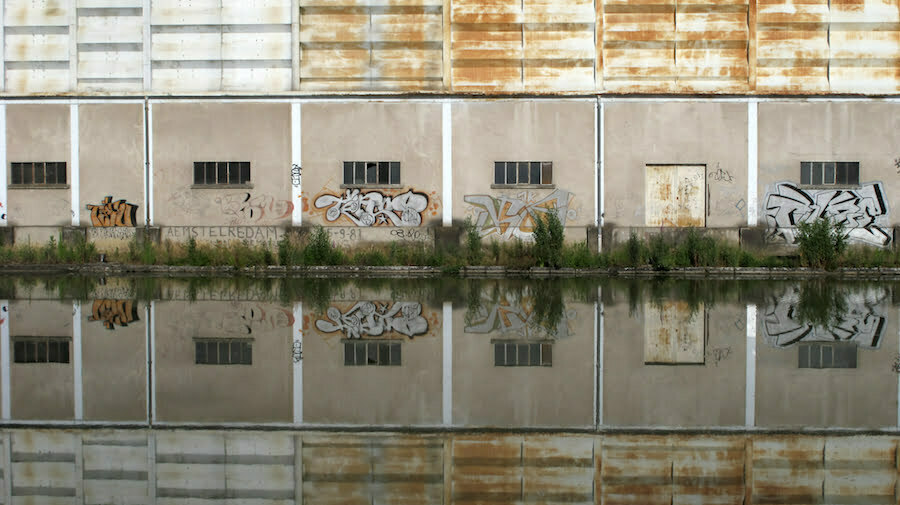 Info
The Saint Satur campsite is a tranquil place, the pitches nestled amongst the trees. I woke early and wandered to the river's edge and it was a joy to watch the mist lift over La Loire as the sun rose.
At 8am the baker's van arrived. Such a treat it was that it didn't really matter they were yesterday's croissants. We were on our way by 8.30, by far our earliest start – the idea being we would finish early and so get proper rest. Of course few plans withstand contact with the enemy, and this was no exception.
Our route from Sancerre took us through some tiny villages and I was delighted to find one called 'La Croix'. Sadly it seemed far removed from the fine wine producing villages (Pouilly is just up the road) as there was a distinct smell of vinegar in the air!
Once again it proved impossible to cycle by a well situated cafe, this time in La Charite sur Loire. A fine looking place with a 16th century centre, but lived and worked in rather than pickled for tourists. Anywhere else it would be mobbed by coaches, perhaps it usually is and we just caught it right. Either way we were both taken by the place, if slightly disturbed that we didn't notice a shop keeper moving our bikes so he could open his shutters.
South, south, ever south. At Cuffy and it's amazing canal 'water tank' used to maintain the levels (yet another feat of French civil engineering). Here we said 'au revoir La Loire' and 'bonjour La Allier', another river to lead us south.
We were buzzed by a classic car rally, much honking of horns and cheering and it was in high spirits we rolled into Apremont, said to be one of the prettiest villages in France. Here were the tourists in their droves, milling and gawping at the houses so perfect Disney would have rejected them for being unbelievable. We tried to get in the spirit but an overpriced scoop of ice cream didn't endear us to the place, so we headed on.
Some undulating miles led us to change our destination for the day, shaving 15kms off the total, but adding what can be classed as our first 'big hill'. One word – hot! But by 7.30 we'd arrived in Bourbon l'Archambault and despite the campsite being up the hill on the other side of town felt we had made the right decision as we'll avoid more main roads tomorrow.
A shower, a giant plate of pasta (but a sad lack of wine) then some bike maintenance and that was it for the day. With 120kms today and the total now over 400 we feel pleased with our progress, however we are starting to sense the mountains of the Massive Central rise ahead of us so any satisfaction is tinged with trepidation. But that's all to come…